Into the Maze | Day 1
The Maze and the Mesa (April 2011)
Day 0: Change of Plans?
Friday, April 8, 2011
As you might have seen in this post before I left for this trip, there was some real concern about the government shutting down and closing Canyonlands National Park. The night before I was set to leave, I stayed up to see what was going to happen in Washington. Luckily, at the last minute they figured out the budget and averted a shutdown. Of course, my time would have been better spent sleeping, but at least we did not have to make any last minute changes to our plans and we would still be able to explore The Maze District of Canyonlands for a few days.
Day 1: Into the Maze
Saturday, April 9, 2011
After staying up later than I would have liked on Friday night, I was up again at 3am on Saturday morning so that I could finish getting ready and head straight to Hanksville to meet up with Jared. I had hoped to grab a quick breakfast on the way, but apparently the McDonalds on my way out of Grand Junction isn't open 24 hours like I thought….and neither is the one in Fruita. I also found out that the Burger King in Green River doesn't open at 5am like I had hoped….
I met up with Jared at the Hollow Mountain in Hanksville and we transferred his camping gear into my Jeep. Then I followed him south to the Poison Springs Road so he could find a spot to park his car for the next few days. Since it didn't take us as long as we planned, I still had time to get some breakfast at Blondie's before meeting up with Dave.
We met Dave at 8am at the turnoff to the Hans Flat Road and took off towards the ranger station to go get our camping permits. We ended up picking up our permits less than an hour after leaving the highway and then started our descent into The Maze. It snowed on and off on our drive down the Flint Trail and on our way around Teapot Rock. The snow wasn't sticking to the ground and wasn't falling enough to make the road slippery.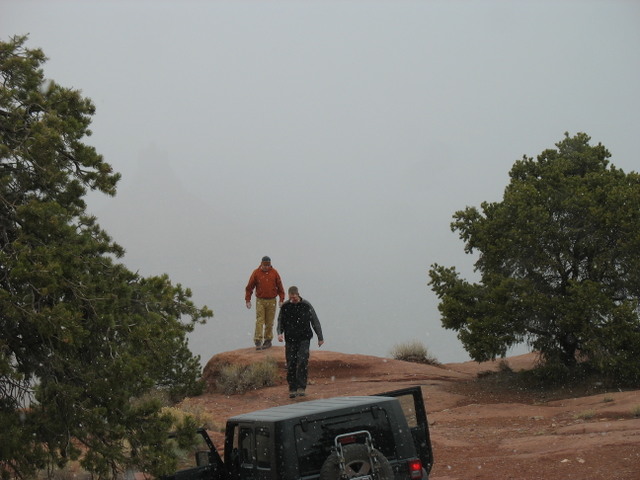 This photo was taken by Dave of Jared and I checking to make sure no one was coming up the Flint Trail in the snow.
Four hours after leaving the ranger station we arrived at Chimney Rock; our camp for the next two nights. It was pretty windy as we setup camp, and both Jared and Dave had brand new tents they had not used before…Jared had a few issues but managed to get it setup.
Chimney Rock from near our campsite.
Jared trying to setup his brand new tent.
Part of our campsite.
Once camp was setup we hiked over to take in the views over nearby Water Canyon and Jasper Canyon. We hiked along the rims for a ways and watched the sun go down.
Jared and Dave overlooking Water Canyon.
A small arch we spotted on the rim of Water Canyon.
Jared and Dave hiking towards Jasper Canyon.
A view over Jasper Canyon.
Jared overlooking the Maze.
A view over The Maze at sunset.
A small tree growing out of the sandstone at sunset.
My long shadow close to sunset.
Island in the Sky lit up in the distance.
Chimney Rock and Ekker Butte at sunset.
There was plenty of wind, snow and even more wind that evening! The weather certainly could have been better, but it still turned out to be a nice first day to start our trip.
Day 2 to be continued…